Description
Also, check out our other books and videos – Click here
Prerequisites And Requirements:
Lightroom (5 or newer) OR Lightroom Classic (the current desktop version of Lightroom)
Photoshop (CS3 or newer)
OR instead of the above, just Photoshop and Adobe Camera RAW.
Your own RAW files (this works better with RAW than Jpeg)
At least basic familiarity with Lightroom (like, you know where the Develop module is)
Beginning Photoshop Skills
Finally, this is designed for everyone, so it goes into detail that may be review for more advanced users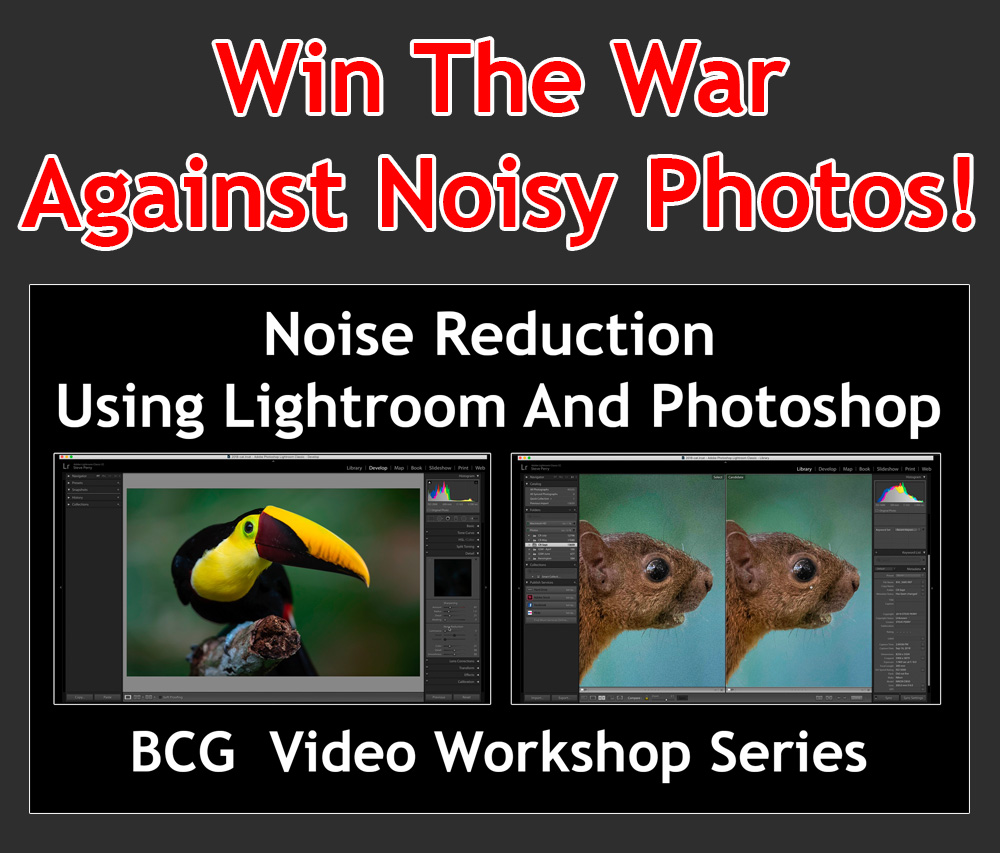 Win The War Against Noisy Photos!
Let's face it – if you're a low light photographer, you're constantly battling noise. In fact, the most common post-processing questions I get – by far – all relate to noise reduction. For years I've had people asking how my high ISO shots (ISO 1600-12,800) look so clean. They often look for a special plug-in or piece of software that'll magically do the trick, but that's not necessary. If you have Lightroom and Photoshop, you already have the tools I use for nearly all my noise reduction (BONUS – you can also just use Photoshop and Camera RAW too – there's a supplement included in the video that shows you the minor differences).
Below is one of the sample images we use in the video workshop (just a snapshot, but it makes a really good example). Although this was shot at nearly 1 stop higher ISO than I'd want to use with the D850 in crop mode, the techniques I describe kept the noise in check and allowed me to retain detail. (Note – you can click any of the images below for a much larger version – you may even have to click the larger version one more time to see it full size.)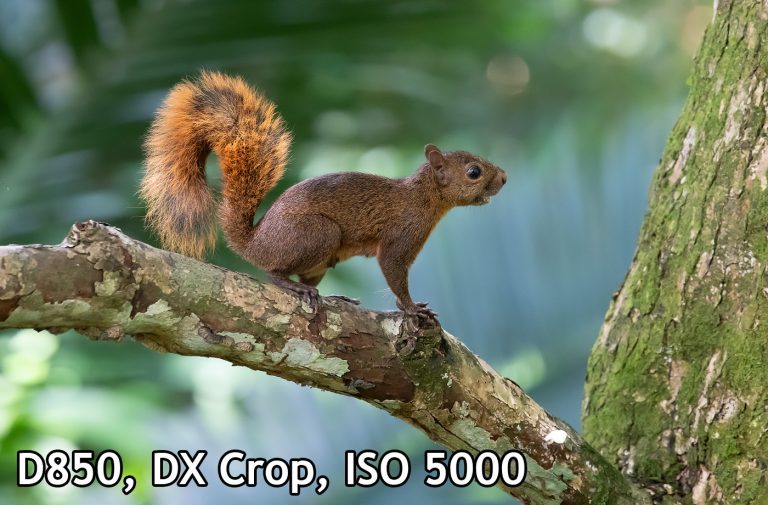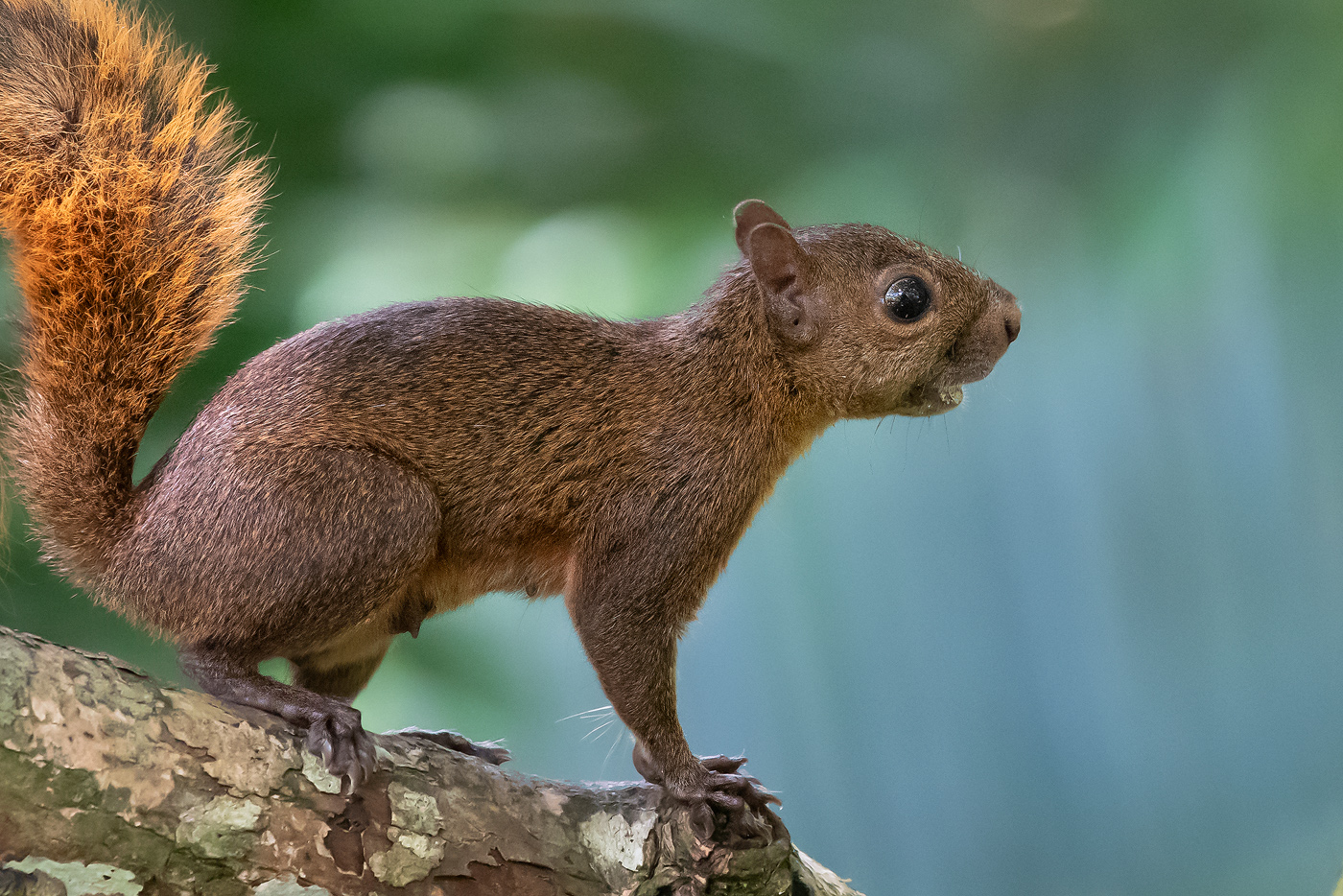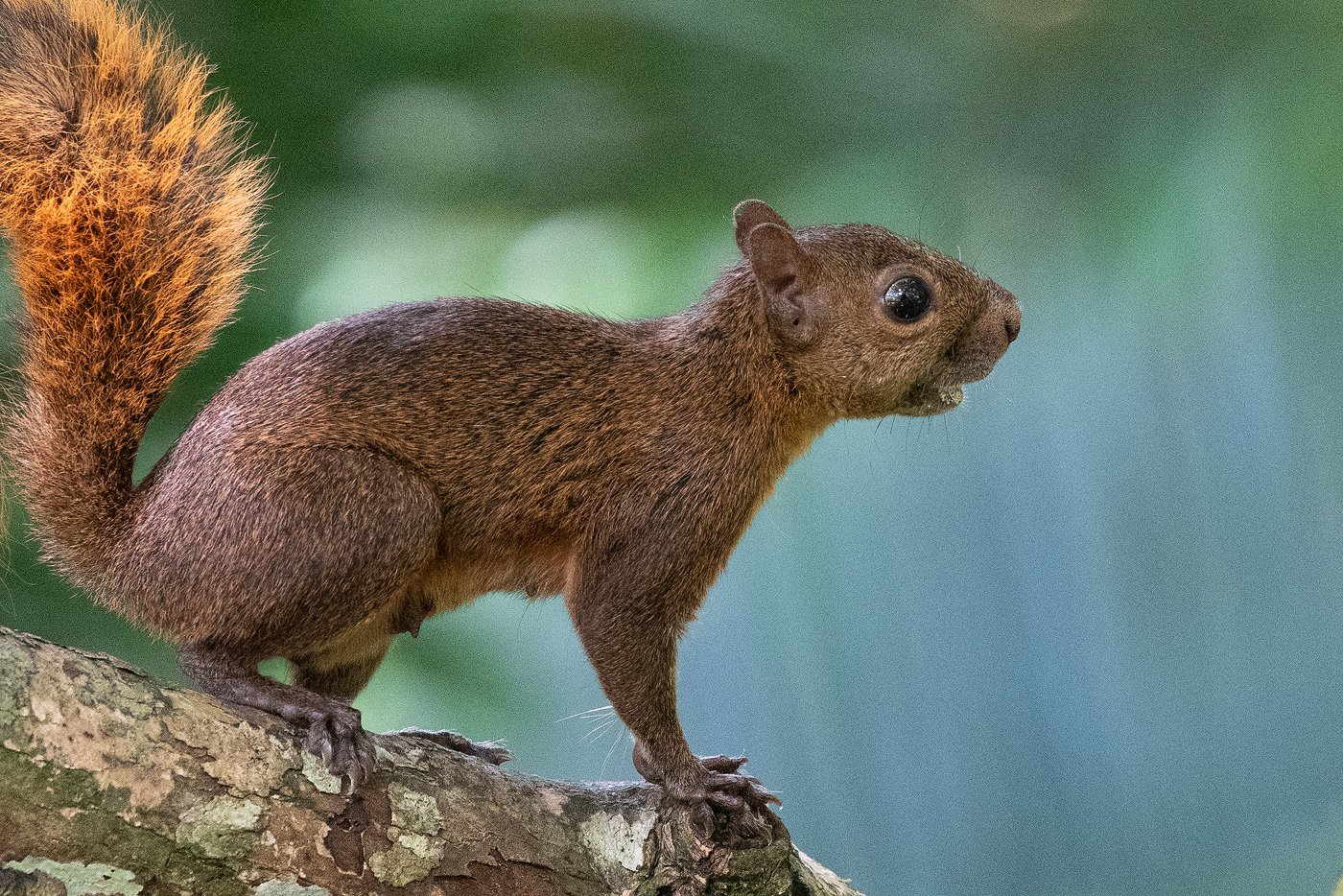 In this 1.5 hour video course (you can watch it online or download it), I'm going to show you everything you need to know to win the war on noise. From better capture in the field to knocking out the noise during post processing, it's all covered. Pretty much everything I know about noise reduction is in this series.
The techniques I use have worked for hundreds of my own images and can work for you as well. In fact, this coyote shot was with a D850 at ISO 6400, but with just a little work I was able to make it look like a much lower ISO.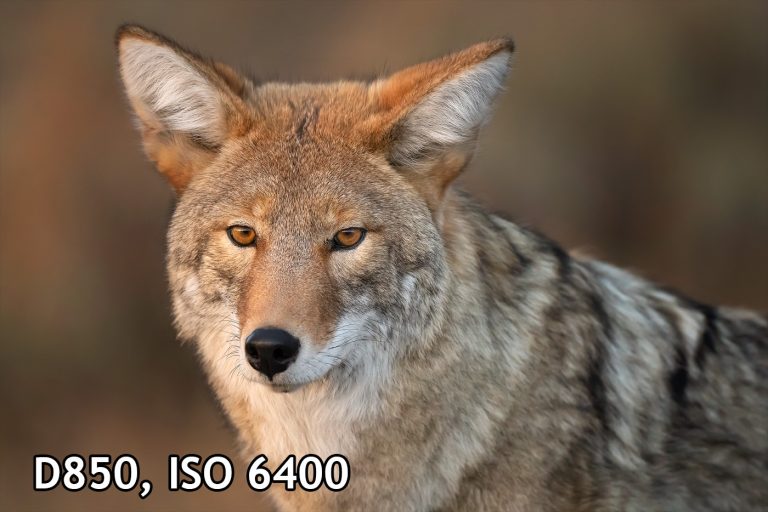 This chipmunk image was shot at ISO 6400 on my D850 in DX crop mode – however, I was capped out on Auto ISO and ended up underexposing it a stop! This required +1 stop to be added with the exposure slider in Lightroom, giving me an equivalent / effective ISO of 12,800. In a matter of minutes, I went from crazy noisy to what you see below.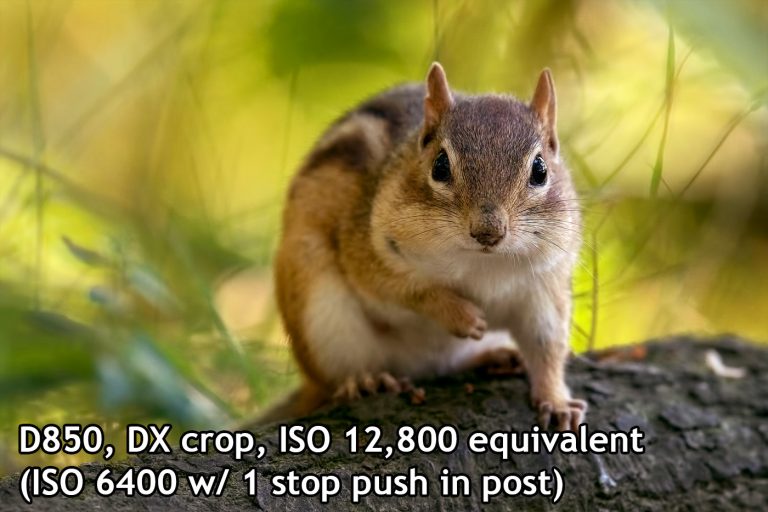 The good news is that getting results like this really isn't that difficult once you know how.
This video series will take you step by step, explaining everything you need to know for successful noise reduction using just Lightroom and Photoshop. The course is highly detailed and is designed for everyone, not just gurus. You just don't need much Lightroom or Photoshop (or Photoshop/Camera RAW) experience to leverage the techniques in this course. Plus, since it's a video workshop, you'll get to watch each step of the process and hear me explain the reasons for everything I do. Plus, I always try to pass along other hints and tips along the way. So, even if you've only had very little experience with Lightroom or Photoshop, this course can teach you the techniques you need to quickly get rid of noise.
The image below was taken in the jungles of Costa Rica – at ISO 11,400. Although the D5 is good, it's not that good – but in a matter of minutes I had killed off the distracting noise using just Lightroom and Photoshop as described in the videos.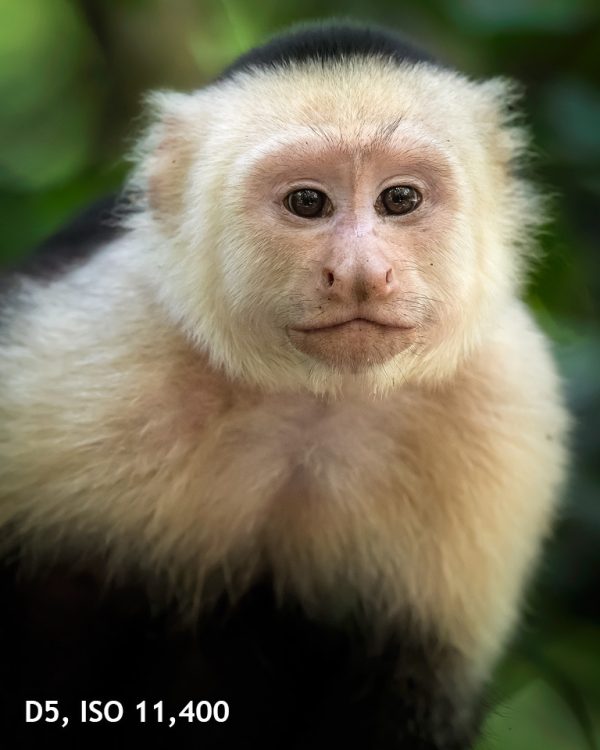 Here's another sample from the video workshop with the before and after. This was taken at ISO 12,800! For this image, I used a technique that sharpens the image without adding noise, so I was able to strike a balance between pulling the noise levels down and pulling out and retaining as much detail as possible. (Note, again this is just a quick snap, but made a good example – no further processing was performed beyond noise reduction and sharpening.)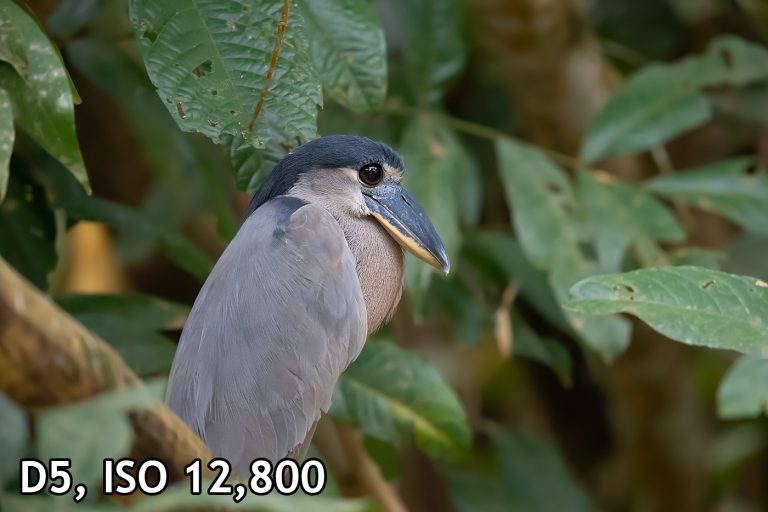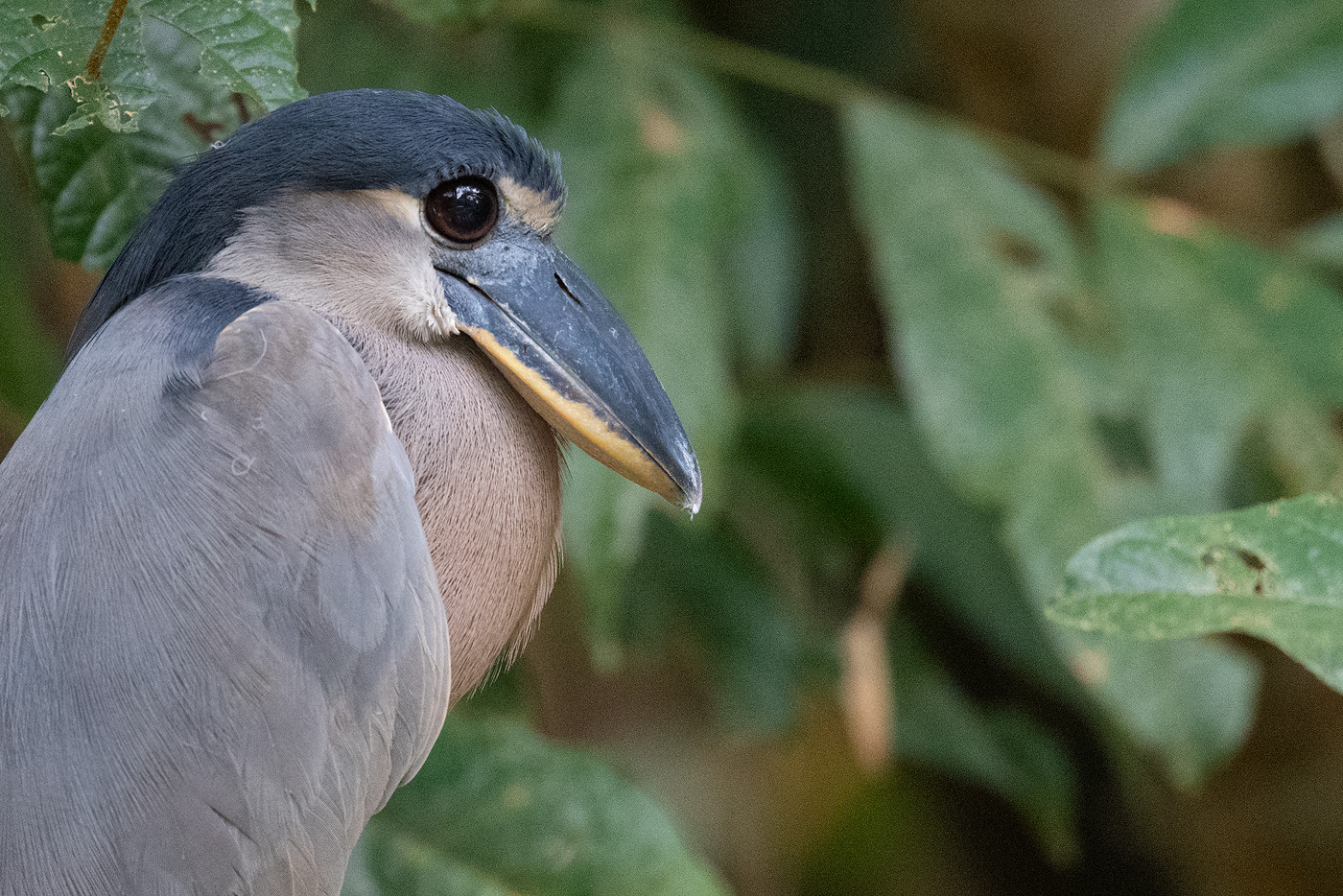 Oh, and it's not just about killing noise either. You'll notice as you check out the bullet points below that in addition to noise reduction, I'm also all about keeping detail and sharpness in the photo and I'm going to show you that as well. The key is to achieve the level of noise reduction you want without losing critical detail. It's a balancing act for sure, and I have multiple techniques achieving it – and I'm going to share 'em all with you!
The course includes four different videos, each one getting more advanced than the next. Let's take a look.
Video #1 – Intro And Field Techniques
Four field techniques that help keep noise in check
The importance of shooting RAW for the best results
The BIG ISO mistake I see all the time – and how to prevent it
How ISO accidents happen – and what to watch out for
What I tell my workshop participants to do before every shot
Why properly filling the frame is critical
A dramatic demonstration showing how cropping works against noise reduction
The detrimental way cropping impacts noise for image output
Why tack sharp images are super-critical for high ISO shots
What a tack-sharp image should really look like
Why marginal sharpness is a disaster for noise reduction
Why pulling shadow detail is a dangerous game with high ISO shots
How to recognize shadow issues in the field – and what to do about them
Video # 2 – Basic Lightroom Noise Reduction Techniques
How to fix a moderately noisy image using just Lightroom or Camera RAW
Why the sharpening and noise reduction panels are next to each other
How sharpening impacts noise
Secrets to using the Masking slider to avoid making noise worse
Basics for how a mask works in any program
How to determine the correct amount of sharpness masking
The difference between color and luminance noise
How the Luminance slider works
How to use the Detail slider and how it works with the Luminance slider
What the Contrast slider does and how it interacts with the Luminance slider
How to use sharpening to bring back detail to the image
Exactly how the Radius slider works and how to use it with higher ISO shots
How the Detail slider works – and how it can make or break a noisy image
How to use all of the sliders at your disposal to get the best balance between noise reduction and detail
Why it's critical to leave a little noise behind
Video # 3 – Using Lightroom And Photoshop For Noise Reduction 
More application of the techniques from the first video
What to do when Lightroom can't quite get rid of the noise and keep the detail you want
How to keep maximum detail without compromising noise reduction
The secret to leveraging sharp areas of the image for noise reduction
How multiple versions of the image can help optimize noise reduction
How to prep an image for heavy noise reduction
How to prep an image to keep maximum detail in the subject
How to use Photoshop to blend images for the best noise to detail ratio
Layer mask basics (note – this isn't a course on layers / masks, but we go over what you need for the NR techniques)
Smart Object basics – using them to tweak our previous adjustments
Basics for using the Brush tool
How we blend two layers to get the best noise reduction
Video #4 – LR & PS  – Advanced Blending And Sharpening Techniques
More application of the techniques in the first two videos
How to handle a more complex image with multiple problems
Why sharpening a photo without sharpening noise is critical for saving high ISO images
How Lightroom sometimes can't quite get sharpening right without making things too noisy
High-pass sharpening basics
Amazing technique for sharpening a photo without sharpening noise (high-pass trick)
How to achieve various levels of sharpness in your image – all without sharpening noise
 Using blend modes for sharpening
Deciding how much sharpening is enough
Image blending for optimum noise reduction and detail in sharp, moderately sharp, and blurry areas
Making an ISO 12,800 image look like an ISO 400 (or less) image
How contrast, clarity, and other Lightroom controls can increase noise exponentially
How to use those same tools without putting noise through the roof
And that's just the overview!
The videos total an hour and a half and are completely packed with hints, tips, and advice – as well as thoroughly explaining every detail of the techniques I use to combat noise. The videos are presented as an online course so you can check off your progress as you go as well as coming back whenever you please. In addition, you can also download every video to your computer as well – great for travel.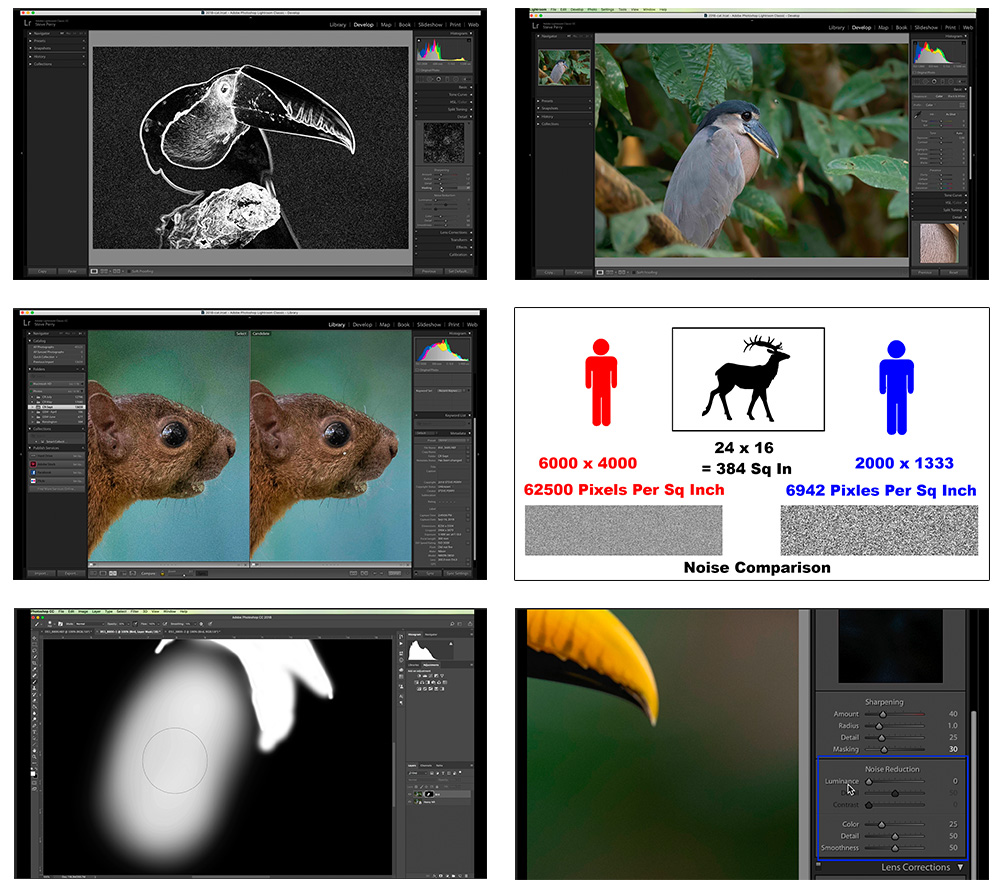 The techniques in this video are my go-to for all of my high ISO shots and have served me exceedingly well over the years. By the time you're done with the video, you'll have skipped all the learning curve that I went through and be well on your way to rescuing those high ISO shots!
What about plugins?
Yup, I know there are a lot of noise-reduction plug-ins out there as well and I'm often asked which are my favorites. The truth is, I've used pretty much all of them at one time or another, and while every technique / plug-in has its strengths and weaknesses, in the end I almost always use the techniques described in this video workshop (sometimes with the plug-in).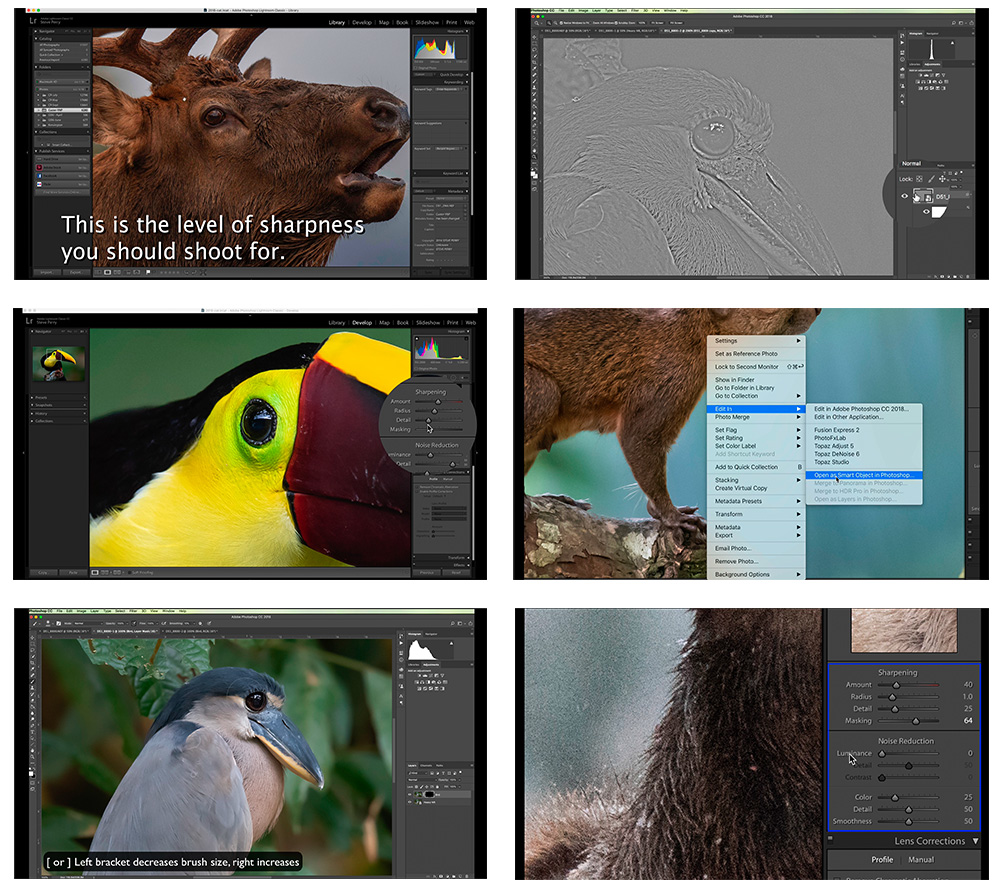 Finally, if you're still on the fence, think of it this way…
So many times we spend countless hundreds or even thousands of dollars purchasing gear that we hope will help us create more powerful images.
The truth is, gear is only a small part of the equation. Amazing imagery comes from YOU – the person standing a few inches behind the viewfinder. Once captured, it's then time to take what the camera puts out and process that RAW file so it matches your vision – and isn't some noisy mess.
However, when offered an opportunity to improve their photographs in a way that could make in incredible impact, people often hesitate. I know for a fact that my best images were due to hundreds, even thousands of hours spent studying educational materials, not because of the gear or Photoshop plug-ins.
So, that brings us to price. I've tried to make this completely affordable for any photographer – just $14.97 and it's an instant download.
That's basically less than lunch money for a product that could improve your photographs exponentially. Heck, even if you only discover ONE new noise reduction trick or technique that helps you output an amazing image, wouldn't it be worth it?
Check it out, you could be enjoying this new video series in just a few minutes.
PS – I'm 100% confident you'll love this video workshop. If you're not satisfied, let me know and I'll give you your money back – nothing to lose by giving it a try!